Features of the F Series that Minimize Latent Risk of Fire Inside High-Density Equipment
In the event of equipment fire, the equipment would first of all be damaged. It would also result in financial loss due to work stoppage and would also significantly damage corporate dmage.
The F Series of super-compact smoke detectors protect important equipment (or systems) from fire. By making detectors more compact than ever, they can now be mounted into tight spaces to detect fires in the initial stage by detecting abnormalities inside the equipment, thereby enabling fires.
Super-Compact
With a mere Φ28mm x 57mm contour, F Series detectors are the smallest available anywhere in the world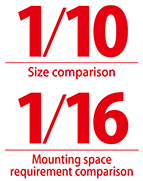 Ten times more compact than the previous model and yet offers high sensitivity.
Employs a system that allows detectors to be mounted in tight places by simply inserting and turning. Enables mounting in places with little clearance.
Electrical fires involving cables, etc., inside electrical devices begin with cables, etc., becoming soft due to heat caused by poor connection, etc. The softened cables then begin to produce smoke and subsequently catch fire. Conventional smoke detectors work by sensing this emission of smoke. Because our newly developed detectors are ultra-sensitive, they are able to detect transparent vapor emitted by plasticizers, etc., when the cable becomes soft prior to producing smoke, thus enabling fire to be prevented before it occurs.
F Series
Alarming
Conventional Detector
Alarming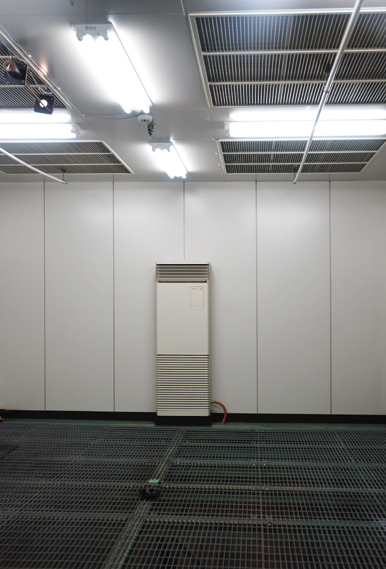 0%/m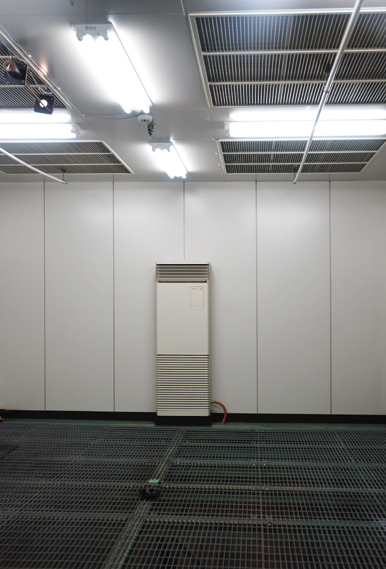 0.5%/m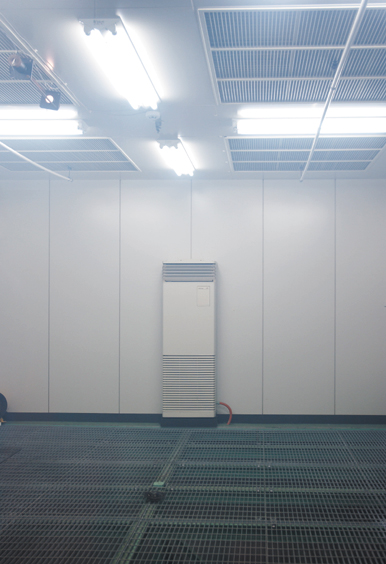 5%/m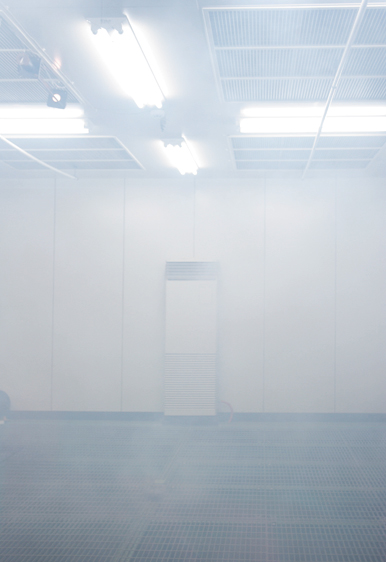 10%/m
Transition of smoke density (attenuation rate %/m) of Smoke emission specimen.
(Results of experiment conducted by Fenwal Controls)
Address Function / Control Unit Type
You can set a unique address for each detector connected to the control unit. This enables you to identify the location where smoke was detected in an instant.
Connecting the control unit to a PC enables you to easily change detector addresses and sensitivity settings, or check current state, log, etc. Sensors and control unit can be mounted on a DIN rail.

Standalone Type Smoke Detector
F1H and  F1HQ  are standalone devices that require no transmitter; thus, alarm signals in case of fire, or trouble signals, can be obtained just by supplying DC 24 V.
Smoke Detector with Built-in Suction Fan "F1HQ"
Providing the world's smallest class smoke detector with a built-in small-size fan, F1HQ makes possible early detection of scattered smoke particles where air currents are rapid. In addition, this product is a standalone device that requires no transmitter; thus, alarm signals in case of fire, or trouble signals, can be obtained just by supplying DC 24 V.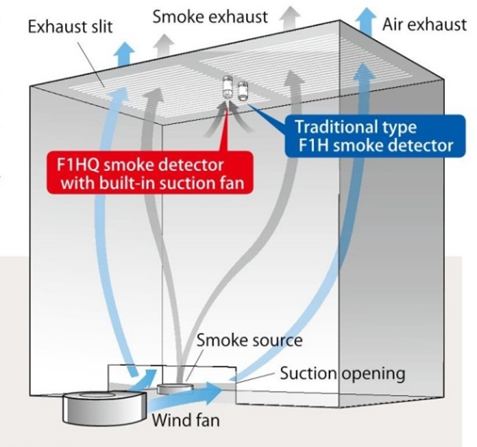 Application
F Series offers selection
Supports all sorts of requirements including application, specifications, environment, and installation conditions.
Selectable Sensitivity
Supports from 0.5%/m to 10%/m according to specified environment ranging from ordinary atmosphere to ultra-clean rooms.
Selectable Output
Supports applications such as ON/OFF contact output.
Selectable System
You can select a system that connects to a receiver or standalone type that offers direct output from detectors.
F Series Product Lineup
Control Unit
Appearance
Model No.
Specifications
Drawing
Manual
FC1
Rated Voltage/Current : DC24V 0.5A
Operating Voltage Range : DC24V ± 10%
Connectable detector Numbers : Up to 31
External Wiring Resistance(Between control unit and detector) : FC1:Max 10Ω FC2:Max. 13Ω
Weight Approx : FC1:420g FC2:450g
Operating Temperature Range : 0°C ~ 60°C
Storage Temperature Range : -20°C ~ 70°C
Operating Humidity Range : 30 ~ 85%RH (No Condensation)
FC2
FC1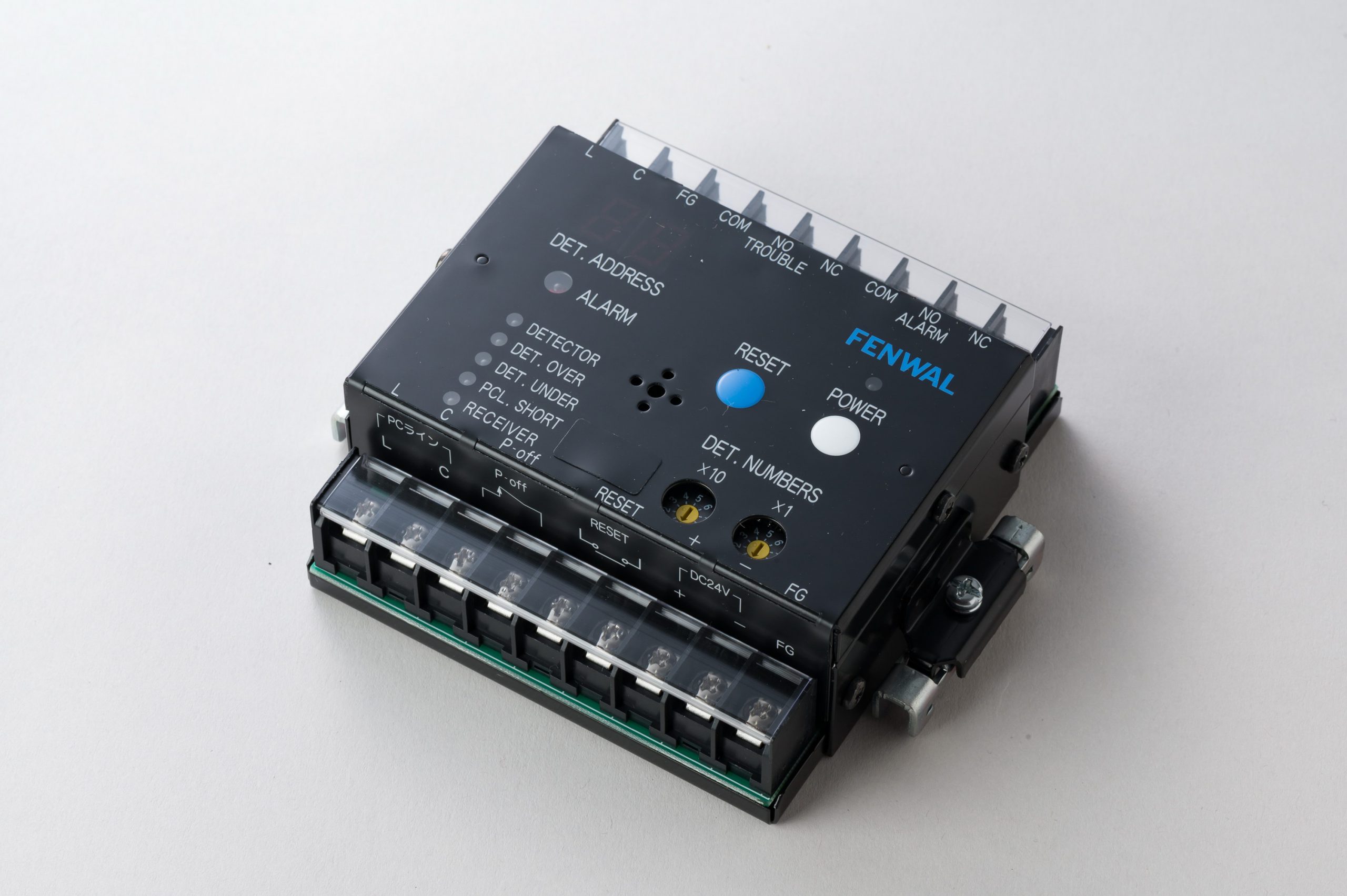 FC2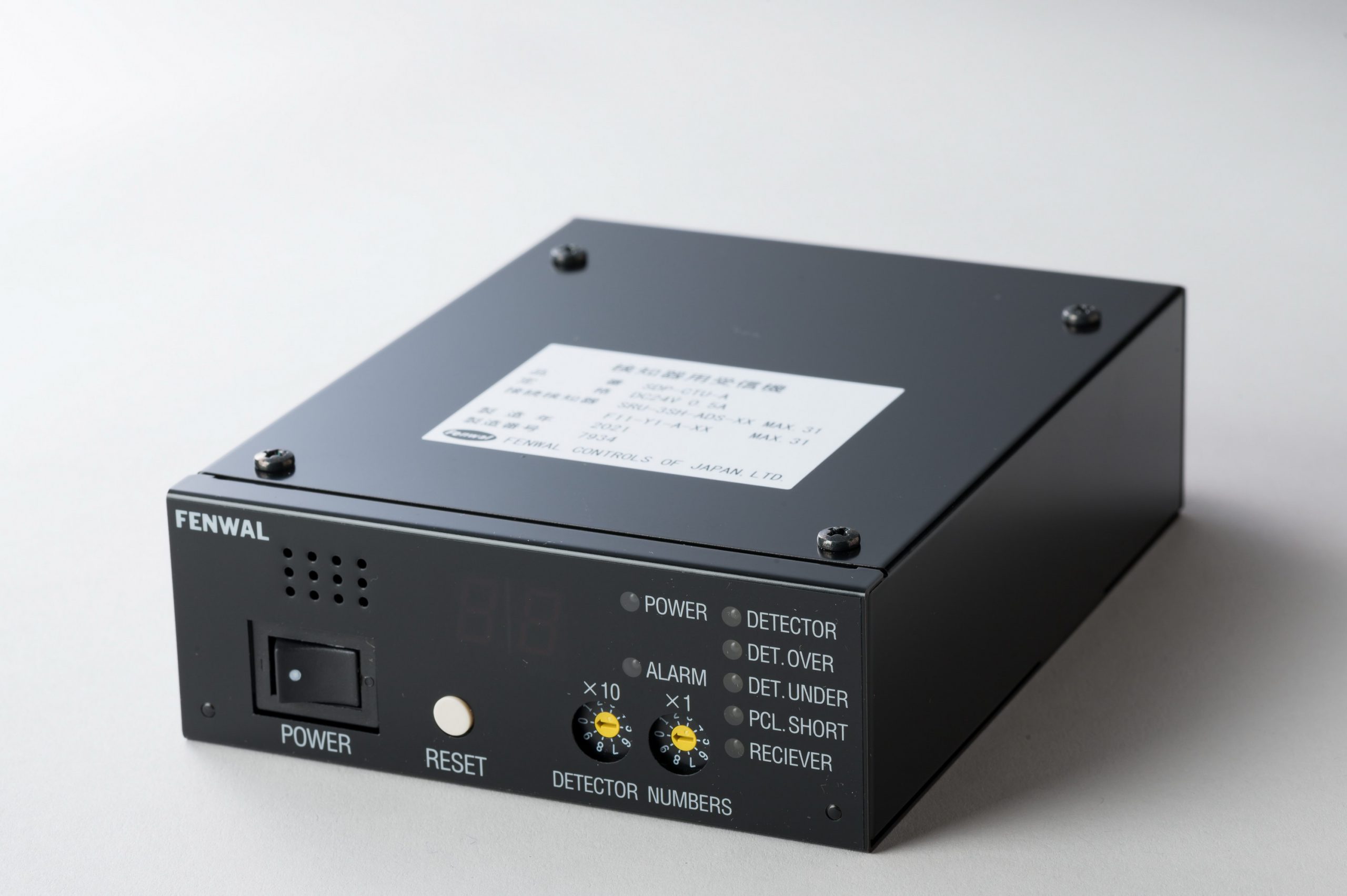 Specifications
| | |
| --- | --- |
| Rated Voltage/Current | DC24V 0.5A |
| Operating Voltage Range | DC24V ± 10% |
| Connectable detector Numbers | Up to 31 |
| External Wiring Resistance(Between control unit and detector) | FC1:Max 10Ω FC2:Max. 13Ω |
| Weight Approx | FC1:420g FC2:450g |
| Operating Temperature Range | 0°C ~ 60°C |
| Storage Temperature Range | -20°C ~ 70°C |
| Operating Humidity Range | 30 ~ 85%RH (No Condensation) |
Drawing
FC1
FC2
Manual
FC1
FC2
Smoke Detector (Control Unit Type)
Appearance
Model No.
Specifications
Drawing
Manual
F11-Y1-XX
(XX:Address)
Sensitivity:
3 ~ 10%/m
Rated Voltage : DC24V 0.5mA(Y1)、1mA (Y05)
Operating Voltage Range : DC16V ~ DC30V
Current Consumption :
Monitoring State: 0.35mA(Y1)、0.8mA(Y05)
Alarm State 0.45mA(Y1)、0.9mA(Y05)
Operating Temperature Range :
0°C ~ 50°C (Y1)、-10°C ~ 50°C (Y05)
Storage Temperature Range : -20°C ~ 70°C
Operating Humidity Range : 30 ~ 85%RH (No Condensation)
F11-Y05-XX
(XX:Address)
Sensitivity:
0.5 ~ 5%/m
F11-Y1-XX(XX:Address)
Sensitivity:3 ~ 10%/m
F11-Y05-XX(XX:Address)
Sensitivity:0.5 ~ 5%/m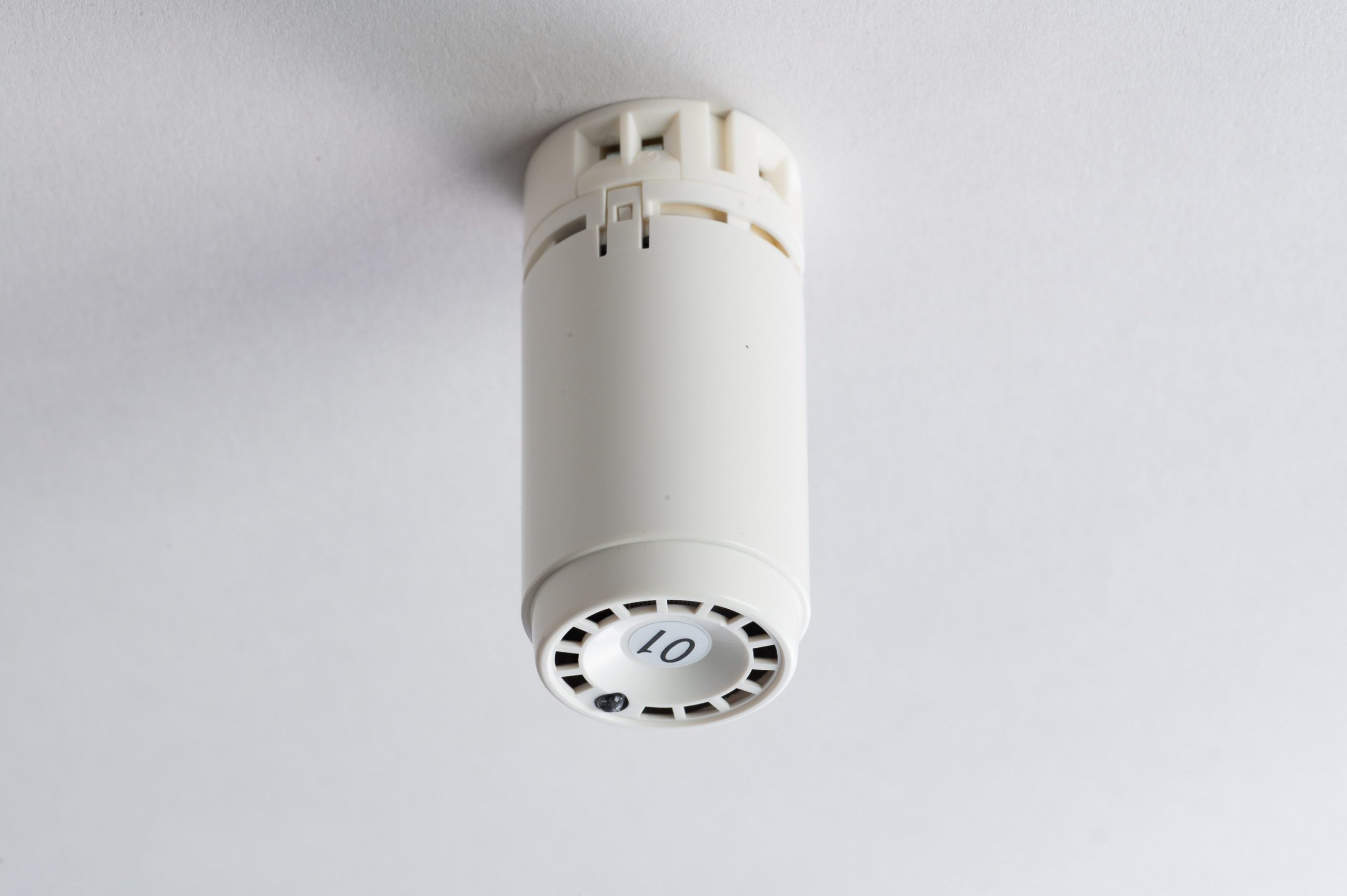 Specifications
| | |
| --- | --- |
| Rated Voltage | DC24V 0.5mA(Y1)、1mA (Y05) |
| Operating Voltage Range | DC16V ~ DC30V |
| Current Consumption | Monitoring State: 0.35mA(Y1)、0.8mA(Y05)Alarm State 0.45mA(Y1)、0.9mA(Y05) |
| Operating Temperature Range | 0°C ~ 50°C (Y1)、-10°C ~ 50°C (Y05) |
| Storage Temperature Range | -20°C ~ 70°C |
| Operating Humidity Range | 30 ~ 85%RH (No Condensation) |
Drawing
F11-Y1-XX(XX:Address)
F11-Y05-XX(XX:Address)
Manual
F11-Y1-XX(XX:Address)
F11-Y05-XX(XX:Address)
Heat Detector (Control Unit Type)
Appearance
Model No.
Specifications
Drawing
Manual
F21A-Y1-XX(XX:Address)
Rated Voltage : DC24V 1mA
Operating Voltage Range : DC16V ~ 30V
Current Consumption : Monitoring State 0.8mA Alarm Stete 0.93mA
Alarm Setting Value : 70°C compensation rate system
Operating Temperature Range : 0°C ~ 50°C
Storage Temperature Range : -20°C ~ 70°C
Operating Humidity Range : 30 ~ 85%RH (No Condensation)
F21A-Y1-XX
Operating Temperature Range:0°C ~ 50°C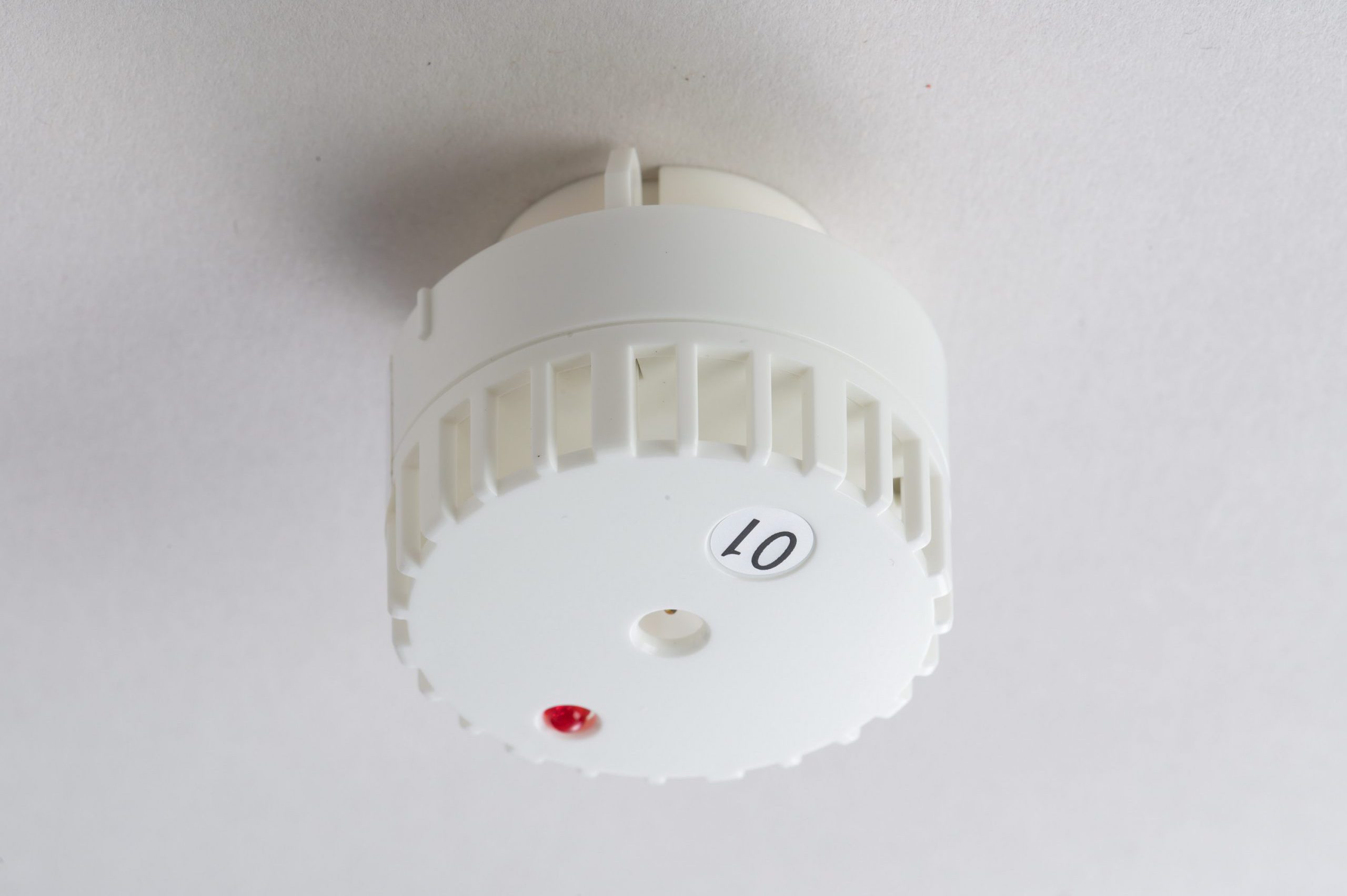 Specifications
| | |
| --- | --- |
| Rated Voltage | DC24V 1mA |
| Operating Voltage Range | DC16V ~ 30V |
| Current Consumption | Monitoring State 0.8mA Alarm Stete 0.93mA |
| Alarm Setting Value | 70°C compensation rate system |
| Operating Temperature Range | 0°C ~ 50°C |
| Storage Temperature Range | -20°C ~ 70°C |
| Operating Humidity Range | 30 ~ 85%RH (No Condensation) |
Drawing
Manual
Smoke Detector (Standalone Type)
Appearance
Model No.
Specifications
Drawing
Manual
F1H-RYW1-05BB2
【Sensitivty】
Standard Setting: 5%/m
Setting Range: 3 ~ 10%/m
Setting Unit: 1%/m
Rated Voltage : DC 30mA
Operating Voltage Range : DC10V ~ 30V
Operating Temperature Range : -10°C ~ 60°C
Storage Temperature Range : -20°C ~ 75°C
Operating Humidity Range : 30 ~ 85%RH (No Condensation)
F1H-RYW1K -R5BB2
【Sensitivty】
Standard Setting: 0.5%/m
Setting Range: 0.5 ~ 5%/m
Setting Unit: 0.5%/m,1%/m
 F1H-RYW1-05BB2
【Sensitivty】
Standard Setting:5%/m
Setting Range:3 ~ 10%/m
Setting Unit:1%/m
F1H-RYW1K -R5BB2
【Sensitivty】
Standard Setting:0.5%/m
Setting Range:0.5 ~ 5%/m
Setting Unit:0.5%/m, 1%/m
Specifications
| | |
| --- | --- |
| Rated Voltage | DC 30mA |
| Operating Voltage Range | DC10V ~ 30V |
| Operating Temperature Range | -10°C ~ 60°C |
| Storage Temperature Range | -20°C ~ 75°C |
| Operating Humidity Range | 30 ~ 85%RH (No Condensation) |
Drawing
F1H-RYW1-05BB2
F1H-RYW1K -R5BB2
Manual
F1H-RYW1-05BB2
F1H-RYW1K -R5BB2
Smoke Detector with Fan (Standalone Type)
Appearance
Model No.
Specifications
Drawing
Manual
F1HQ-RYW1K -R5BB2
【Sensitivty】
Standard Setting: 0.5%/m
Setting Range: 0.5 ~ 5%/m
Setting Unit: 0.5%/m,1%/m
Rated Voltage : DC 20mA
Operating Voltage Range : DC24V±10%
Suction Rate : 1L/min
Filter Collection Efficiency : 70% or Higher
Operating Temperature Range : -10°C ~ 60°C
Storage Temperature Range : -20°C ~ 75°C
Operating Humidity Range : 30 ~ 85%RH (No Condensation)
 F1HQ-RYW1K -R5BB2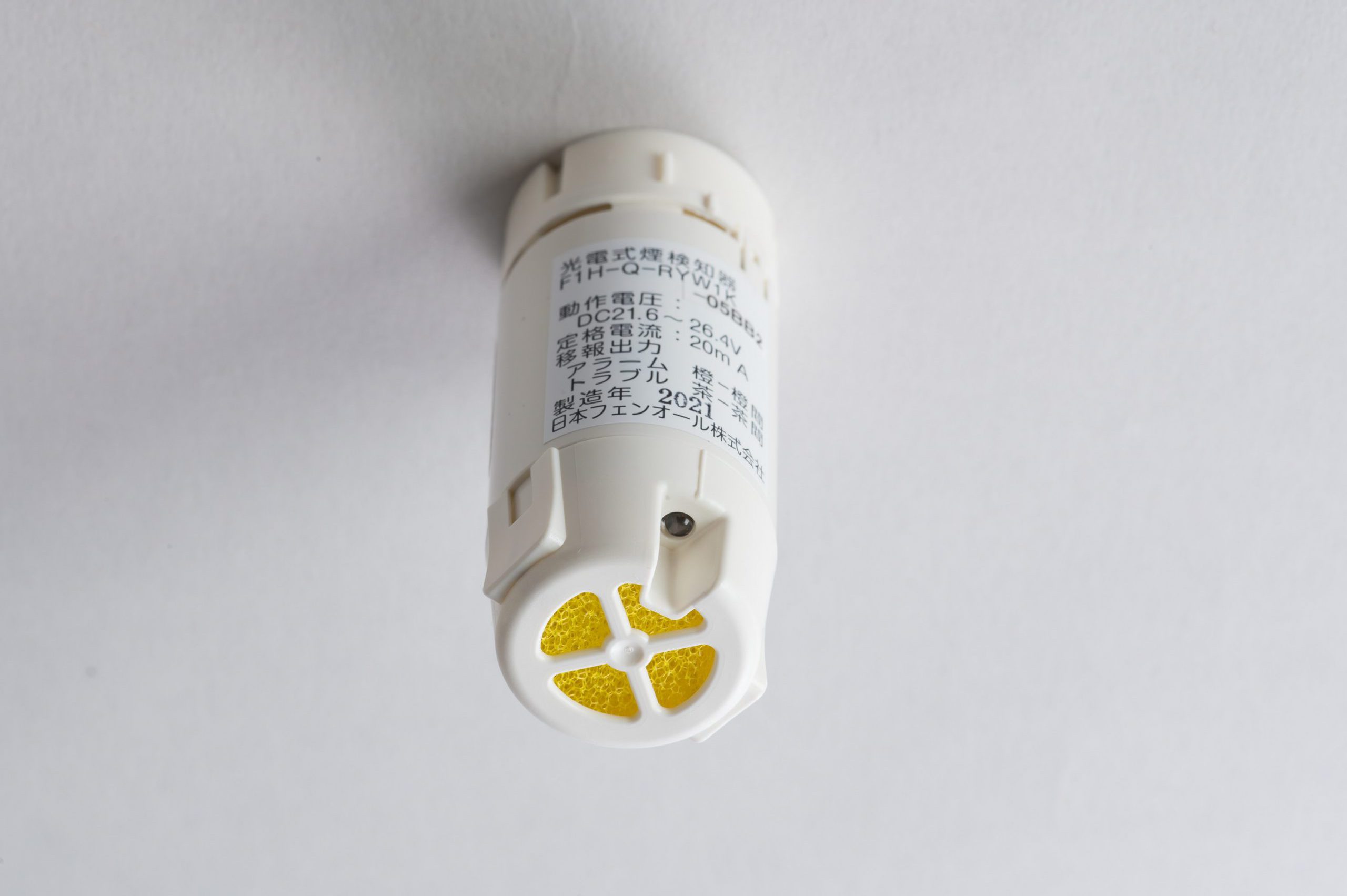 【Sensitivty】
Standard Setting:0.5%/m
Setting Range:0.5 ~ 5%/m
Setting Unit:0.5%/m,1%/m
Specifications
| | |
| --- | --- |
| Rated Voltage | DC 20mA |
| Operating Voltage Range | DC24V±10% |
| Suction Rate | 1L/min |
| Filter Collection Efficiency | 70% or Higher |
| Operating Temperature Range | -10°C ~ 60°C |
| Storage Temperature Range | -20°C ~ 75°C |
| Operating Humidity Range | 30 ~ 85%RH (No Condensation) |
Drawing
Manual
Heat Detector (Standalone Type)
Appearance
Model No.
Specifications
Drawing
Manual
F2H-RYW -70BB0
【Sensitivty】
Standard Setting: 70℃
Setting Range: 10 ~ 90℃
Setting Unit: 1℃
Rated Voltage : DC 15mA
Operating Voltage Range : DC10V ~ 30V
Alarm Setting Value : 70°C compensation rate system
Operating Temperature Range : 0°C ~ 50°C
Storage Temperature Range : -20°C ~ 75°C
Operating Humidity Range : 30 ~ 85%RH (No Condensation)
F2H-RYW -70BB0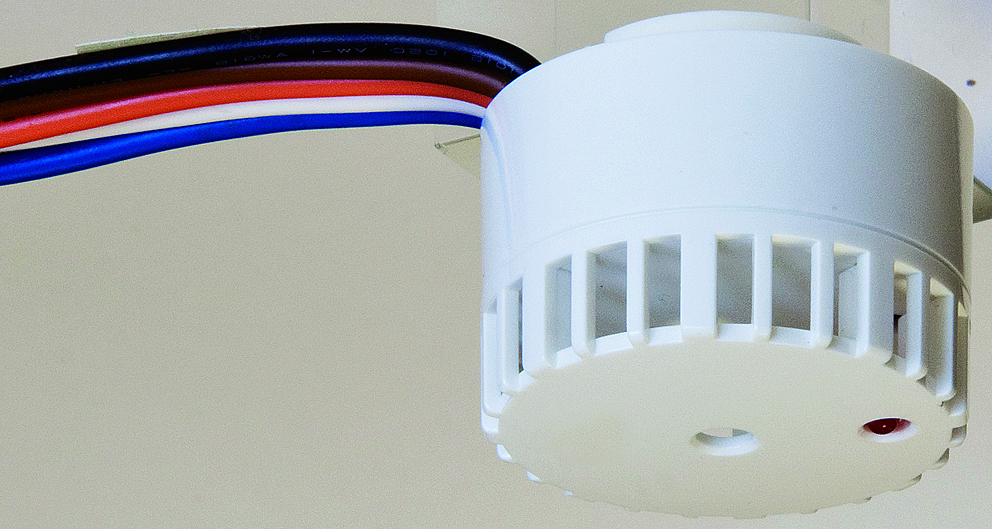 【Sensitivty】
Standard Setting:70°C
Setting Range:10 ~ 90°C
Setting Unit:1°C
Specifications
| | |
| --- | --- |
| Rated Voltage | DC 15mA |
| Operating Voltage Range | DC10V ~ 30V |
| Alarm Setting Value | 70°C compensation rate system |
| Operating Temperature Range | 0°C ~ 50°C |
| Storage Temperature Range | -20°C ~ 75°C |
| Operating Humidity Range | 30 ~ 85%RH (No Condensation) |
Drawing
Manual